---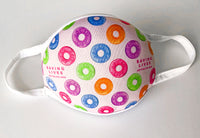 We received our NEW face masks!
Designed after our Life Saver Hip Pack, these face masks have pink, orange, purple, blue and green Joy to Life candies on a soft pink background.
Made with polyester fabric on the outside + polyurethane foam on the inside, these masks are soft and comfortable and made in the USA.  They are washable and reusable with easy stretch straps that fit behind the ears.
Click here to purchase a 3-pack for only $20!
With all our store items, the proceeds from your purchase stays in Alabama to provide mammograms and breast health screenings to women and men in all 67 counties. Over 98,000 mammograms and counting!