---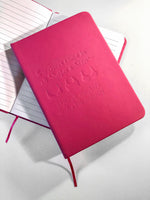 Sale
Special 2-pack deal!

Great as a gift or to keep for yourself, this soft touch, hard cover bound journal has a built-in elastic closure and measures 5"x 7" with 72 sheets of white lined paper. 
Embossed on the front is: SURVIVORS COME IN ALL SHAPES & SIZES (After all, everybody needs a little support) along with 3 bra styles.
With all our store items, the proceeds from your purchase stays in Alabama to provide mammograms and breast health screenings to women and men in all 67 counties.  Over 98,000 mammograms and counting!